As an Amazon Associate I earn from qualifying purchases.
To cook mushroom pizza, preheat the oven, spread the dough, add toppings, and bake until golden brown. Pizza lovers can rejoice in the symphony of flavors that a mushroom pizza brings.
With its earthy aroma and savory taste, this culinary masterpiece is a perfect blend of simplicity and sophistication. The combination of sautéed mushrooms, oozy mozzarella, and fragrant herbs can transport your taste buds to food heaven. Whether you are a seasoned chef or a novice in the kitchen, mastering the art of mushroom pizza is simple.
In just a few easy steps, you can create a delicious homemade pizza that will impress even the most discerning palates. So, let's dive into the delightful world of mushroom pizza and explore the secrets of its creation.
The Perfect Crust of Mushroom Pizza
When it comes to making a mouthwatering mushroom pizza, achieving the perfect crust is key. The crust is not only the foundation of a pizza but also provides that satisfying crunch with every bite. In this section, we'll dive into the essentials of creating a crust that will have your taste buds dancing. From choosing the right type of pizza dough to kneading and shaping techniques, we'll cover it all. Let's get started!
Choosing The Right Type Of Pizza Dough
Before you embark on your mushroom pizza adventure, it's crucial to select the right type of pizza dough. The dough you choose often depends on personal preference and desired texture. Here are a few popular options:
1. All-purpose dough: This versatile and widely available dough creates a balanced crust with a crispy exterior and a soft interior. It's a great choice for beginners and a crowd-pleaser.
2. Whole wheat dough: If you're looking for a healthier twist to your mushroom pizza, whole wheat dough is an excellent choice. It adds a nutty flavor and provides a slightly denser crust.
3. Gluten-free dough: For those with gluten sensitivities or dietary restrictions, gluten-free dough is a fantastic alternative. It can be made using a combination of different flours like rice flour, potato starch, or almond flour.
Tips For Kneading And Shaping The Dough
Now that you have your dough ready, it's time to roll up your sleeves and give it some love. Here are a few tips to ensure your kneading and shaping process goes smoothly:
Use a lightly floured surface: Sprinkle some flour on your work surface to prevent the dough from sticking. Too much flour can make the crust dry, so be mindful of the quantity.
Knead gently: Kneading helps develop the gluten in the dough and gives it that desired chewiness. Avoid over-kneading, as it can result in a tough crust. Aim for a smooth, elastic consistency.
Let it rest: After kneading, allow the dough to rest for at least 30 minutes. This allows the gluten to relax and makes it easier to shape the dough without too much resistance.
Shape with care: Once the dough has rested, gently stretch it into your desired shape. You can use your hands or a rolling pin, but take care not to press too hard, as it can deflate the dough.
Baking Techniques For A Crispy Crust
Now that your dough is shaped, it's time to bake it to perfection. Here are a few techniques to ensure a crispy crust:
Preheat your oven: To achieve that ideal crispy crust, preheat your oven to a high temperature, around 475°F (245°C). A hot oven ensures rapid heat transfer and helps create that coveted crunch.
Use a baking stone or steel: Baking your mushroom pizza on a preheated stone or steel helps distribute heat evenly and creates a crispy crust. If you don't have a baking stone, a preheated baking sheet can work as well.
Bake on the lower rack: Placing your pizza on the lower rack of the oven promotes browning on the bottom, resulting in a crispier crust. Keep an eye on the pizza to prevent excessive browning.
Shorten baking time: A shorter baking time can contribute to a crispier crust. Keep an eye on the pizza and consider using a higher baking temperature if you prefer an extra crispy crust.
With these techniques in your arsenal, your mushroom pizza crust is bound to be a success. So, get ready to indulge in a slice of heaven and take your pizza-making skills to the next level with the perfect crust.
Sautéing The Mushrooms
Once you have selected the best mushrooms for your pizza and prepared them, it's time to elevate their flavor through sautéing. Sautéing is a cooking technique that involves frying the mushrooms quickly over high heat in a little oil or butter. This method enhances their natural taste, adding a delicious earthy and savory note to your mushroom pizza. Follow these steps to sauté your mushrooms to perfection.
Selecting The Best Mushrooms For Your Pizza
Choosing the right mushrooms is crucial to achieving a tasty mushroom pizza. Opt for fresh, firm mushrooms with a vibrant color and an earthy aroma. While button mushrooms are a popular choice, you can experiment with other varieties like shiitake, cremini, or portobello for a more distinct flavor. Selecting the right mushrooms will take your pizza to the next level.
Preparing And Cleaning The Mushrooms
Before sautéing the mushrooms, it's essential to prepare and clean them properly. Start by wiping off any dirt or debris using a damp cloth or paper towel. Avoid washing them under running water, as mushrooms tend to absorb moisture and can become soggy. Next, trim the stem ends and slice them evenly to ensure even cooking. Preparing the mushrooms correctly will result in a deliciously golden and flavorful topping for your pizza.
Sautéing Techniques To Enhance Their Flavor
When it comes to sautéing mushrooms, proper technique is the key to bringing out their full flavor potential. Follow these tips to enhance their taste and texture:
Use a large skillet or frying pan to ensure the mushrooms have enough space to cook evenly.
Heat the pan over medium-high heat and add a small amount of oil or butter.
Once the oil is hot and shimmering, add the sliced mushrooms in a single layer.
Avoid overcrowding the pan, as this can lead to steaming instead of sautéing.
Allow the mushrooms to cook undisturbed for a few minutes to develop a golden crust.
Using a spatula, gently toss and stir the mushrooms to ensure even cooking.
Add a pinch of salt and pepper to enhance the flavor.
Sauté the mushrooms until they are tender and caramelized, about 6-8 minutes.
Remove from heat and let them cool slightly before using as a pizza topping.
By following these sautéing techniques, your mushrooms will be bursting with flavor, enhancing the overall taste of your homemade mushroom pizza. Get ready to savor every bite!
Preparing The Sauce
Preparing the sauce is an essential step in cooking a delicious mushroom pizza. By combining fresh tomatoes, herbs, and spices, you can create a flavorful base that complements the toppings perfectly.
Homemade Pizza Sauce Recipe
When it comes to making a delicious mushroom pizza, the sauce is a key element that can make or break the flavor. By preparing a homemade pizza sauce, you have full control over the ingredients and can customize it to your taste. Here's a simple and flavorful recipe for you to try:
Gather the ingredients:

1 can (400g) of crushed tomatoes
2 tablespoons of tomato paste
1 tablespoon of olive oil
1 clove of garlic, minced
1 teaspoon of dried basil
1 teaspoon of dried oregano
1/2 teaspoon of sugar
Salt and pepper to taste

In a saucepan, warm the olive oil over medium heat.
Add the minced garlic and sauté for a minute until fragrant.
Next, add the crushed tomatoes, tomato paste, dried basil, dried oregano, sugar, salt, and pepper.
Stir well to combine all the ingredients.
Reduce the heat to low and let the sauce simmer for about 10-15 minutes, stirring occasionally.
Taste and adjust the seasoning according to your preference.
Once the sauce has thickened to your desired consistency, remove it from the heat and let it cool.
Tips For Achieving The Right Consistency And Flavor
Getting the sauce consistency and flavor just right is crucial for a mouthwatering mushroom pizza. Follow these tips to ensure your sauce hits the mark every time:
Use quality ingredients: Opt for fresh garlic, dried herbs, and ripe tomatoes to enhance the flavor of the sauce.
Simmer to perfection: Simmering the sauce allows the flavors to meld together and the sauce to thicken. Be patient and let it simmer for the suggested time.
Adjust seasoning: Taste the sauce and adjust the salt, pepper, and herbs as needed. Don't be afraid to experiment and make it uniquely yours.
Store leftovers: If you have extra sauce, store it in an airtight container in the refrigerator for up to a week. It can also be frozen for longer storage.
Layering The Sauce Evenly On The Crust
Now that you have your homemade pizza sauce ready, it's time to layer it onto the crust. Follow these steps to ensure an even distribution of sauce:
Start with a pre-baked or store-bought pizza crust.
Pour a spoonful of sauce onto the center of the crust.
Using the back of the spoon or a ladle, spread the sauce in a circular motion, starting from the center and working your way to the edges.
Ensure an even layer of sauce by distributing it thinly and evenly.
Repeat this process until the entire crust is covered with sauce.
Now that you've mastered the art of preparing the sauce and layering it on the crust, you're one step closer to enjoying a delectable mushroom pizza. Stay tuned for the next section, where we'll explore the perfect cheese blend to complement those savory mushrooms!
Assembling The Mushroom Pizza
To assemble the mushroom pizza, start by spreading the tomato sauce evenly on the rolled-out dough. Sprinkle the shredded cheese and arrange the sliced mushrooms on top. Bake until the cheese is melted and bubbly, then serve hot and enjoy!
Once you have prepared the dough, sautéed the mushrooms to perfection, and gathered all the necessary ingredients, it's time to assemble your mouthwatering mushroom pizza. This step is crucial in ensuring that every bite is bursting with flavor and satisfaction. In this section, we will guide you through the three essential steps of assembling the pizza: spreading the sauce on the crust, sprinkling the cheese and other desired toppings, and arranging the sautéed mushrooms to maximize their flavor.
Spreading The Sauce On The Crust
To begin, take your pre-cooked pizza crust and place it on a clean, flat surface. Grab a spoon or ladle and scoop up a generous amount of your preferred pizza sauce. Starting from the center, slowly and evenly spread the sauce in a circular motion, working your way toward the edges. Be sure to leave a small border around the crust for that perfect crispy bite. Remember, the sauce acts as the foundation for your pizza, forming a deliciously tangy base that complements the earthy flavors of the mushrooms.
Sprinkling The Cheese And Other Desired Toppings
Now that you have a sauce-covered crust, it's time to unleash your creativity and add an array of irresistible toppings to your pizza. Begin by sprinkling a generous amount of shredded mozzarella cheese over the sauce. The heat from the oven will melt the cheese, creating a delectable gooey layer that binds all the ingredients together. For an extra kick of flavor, consider mixing in other cheeses like grated Parmesan or crumbled goat cheese. Depending on your preferences, you can further enhance your pizza by adding toppings such as sliced onions, bell peppers, or black olives. Remember to evenly distribute the toppings for a harmonious burst of flavors in every bite.
Arranging The Sautéed Mushrooms For Maximum Flavor
Lastly, it's time to bring in the star of the show – the sautéed mushrooms! Gently but strategically place the sautéed mushrooms on top of the cheese and other toppings. This careful arrangement ensures that each bite of pizza offers an explosion of deep and rich mushroom flavor. Consider layering the mushrooms evenly, allowing their unique texture and taste to shine through. Whether you've opted for cremini, portobello, or shiitake mushrooms, their earthy notes will blend harmoniously with the sauce, cheese, and other toppings, creating a pizza experience like no other.
Now that you have assembled your mushroom pizza, it's time to bake it in a hot oven until the crust is golden brown and the cheese is bubbling and irresistible. Stay tuned for the final step, where we will guide you on the best way to achieve an ideal bake and enjoy your homemade mushroom pizza.
Mushroom Pizza Baking And Serving
Now that your delicious mushroom pizza is topped and ready to go, it's time to bake it to perfection and serve it up for a memorable meal. In this section, we'll cover essential steps to follow for the ideal baking process, as well as serving suggestions and garnishing options to elevate your pizza experience.
Setting The Oven Temperature For Perfect Baking
Before you pop the pizza into the oven, it's crucial to set the right temperature to ensure an even bake and to achieve that crispy crust we all love. Preheat your oven to 450°F (230°C), allowing it to reach the desired temperature to guarantee a delicious pizza.
Timing And Monitoring the Mushroom Pizza While It Bakes
While baking, timing is everything to prevent undercooked or burnt crusts and toppings. On average, your mushroom pizza will take approximately 12 to 15 minutes to cook to perfection. However, it's essential to keep an eye on your pizza during the process.
Use a timer to track the baking time precisely. While the pizza bakes, avoid opening the oven too frequently, as this may affect the overall temperature and cooking process. Instead, wait until the last few minutes to check on your pizza to ensure it is browning evenly.
Keep in mind that baking times may vary depending on your oven's efficiency and the thickness of your crust. Adjust your cooking time accordingly to achieve the desired level of doneness.
Serving Suggestions And Garnishing Options
Once your mushroom pizza is perfectly baked and ready to be served, it's time to add some finishing touches. Here are some serving suggestions and garnishing options to make your pizza even more delightful:
Fresh Herbs: Sprinkle some freshly chopped basil, oregano, or thyme leaves on top to add a burst of freshness to your pizza.
Crushed Red Pepper: For those who enjoy a bit of heat, offer some crushed red pepper flakes on the side, allowing your guests to customize their spice level.
Parmesan Cheese: Grate some Parmesan cheese over the hot pizza just before serving to enhance its savory flavors.
Extra Virgin Olive Oil: Drizzle a small amount of high-quality extra virgin olive oil over the pizza for added richness and depth of flavor.
Remember, these suggestions are just the beginning! Feel free to get creative and experiment with other toppings, sauces, or condiments to customize your mushroom pizza and make it uniquely yours.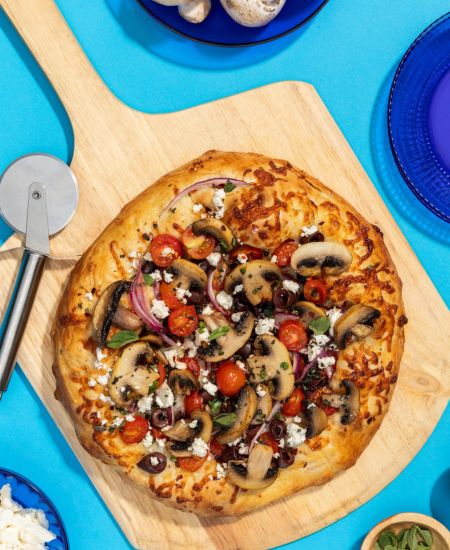 Credit: www.mushroomcouncil.com
Frequently Asked Questions For How To Cook Mushroom Pizza
How Long Does It Take To Cook A Mushroom Pizza?
Cooking a delicious mushroom pizza typically takes around 15-20 minutes in a preheated oven.
What Are Some Delicious Toppings To Add To A Mushroom Pizza?
To enhance the flavors of your mushroom pizza, consider adding toppings like fresh basil, mozzarella cheese, garlic, and cherry tomatoes.
Can I Use Different Types Of Mushrooms For My Mushroom Pizza?
Absolutely! Experiment with different types of mushrooms, such as shiitake, portobello, or oyster mushrooms, to create a unique and flavorful pizza.
Conclusion
To sum up, preparing a delicious mushroom pizza doesn't have to be a daunting task. By following the simple steps outlined in this blog post, you can effortlessly create a savory and satisfying culinary masterpiece. Whether you're a beginner or an experienced cook, this recipe is sure to impress your taste buds.
So, grab your ingredients, fire up the oven, and enjoy the delightful combination of mushrooms, cheese, and seasonings on a crispy pizza crust. Happy cooking!
Amazon and the Amazon logo are trademarks of Amazon.com, Inc, or its affiliates.